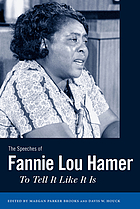 The Speeches of Fannie Lou Hamer: To Tell It Like It Is, edited by Maegan Parker Brooks and Davis W. Houck.

Jackson: University Press of Mississippi, 2011.
Although Fannie Lou Hamer (1917-1977) was a powerful speaker and tireless advocate for civil rights during the 1960s and 1970s, this is the first volume to showcase her
most important speeches and testimonies.
Related Sites
Say It Plain: A Century of Great African American Speeches (American Radio Works) features Hamer's Testimony Before the Credentials Committee, Democratic National Convention. The Civil Rights in Mississippi Digital Archive includes a transcript of an oral history interview with Hamer.