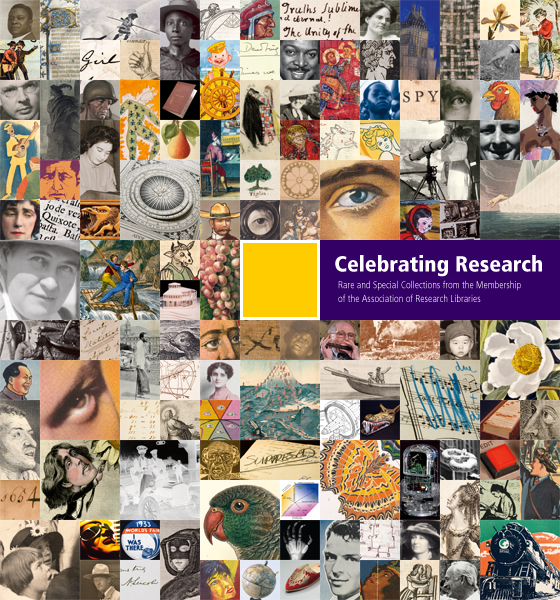 Celebrating Research
(Association of Research Libraries, 2007) profiles rare and special collections at research libraries in North America. Many of these collections document women's history:
University of Alabama
David Walker Lupton African American Cookbook Collection
University of Arizona Library
The Fred Harvey Hotels Collection
Brigham Young University Library
19th Century Western and Mormon Collection
Features an image of a journal page by Emmeline B. Wells
University of California - San Diego Libraries
Southworth Spanish Civil War Collection
Features a drawing by a girl and the photograph, "Spanish Refugees in France."
University of Connecticut Libraries
Alternative Press Collection
Features covers from Off Our Backs and other publications.
Cornell University Libraries
Human Sexuality Collection
Duke University Libraries
The Sallie Bingham Center for Women's History and Culture
Emory University Libraries
The Carter G. Woodson Library
University of Florida Libraries
Baldwin Library of Historical Children's Literature
Features "Paper doll with extra outfit included with
The History of Little Fanny
(1810).
Georgia Tech Library
The Fulton Bag and Cotton Mills Collection
Harvard University Library
Emily Dickinson Collection
University of Hawaii at Manoa Library
Hawaiian Sugar Planters' Association Plantation Archives
Howard University Libraries
Moorland-Spingarn Research Center
Features deed of sale from 1844: Caroline, a slave for life.
Louisiana State University Libraries
Louisiana and Lower Mississippi Valley Collections
Features photo, "Mother and Child," 1890.
University of Miami Libraries
Marjory Stoneman Douglas Collection
National Library of Medicine
Public Health Films Collection
University of Nebraska, Lincoln Libraries
Willa Cather Collection
New York State Library
Van Rensselaer Manor Papers
Northwestern University Library
The Winterton Collection of East African Photographs
Ohio State University Libraries
The Curtiss Show Print Collection
Oklahoma State University Library
Angie Debo Papers
Rutgers University Libraries
Jazz Oral History Project Collection
Features photograph of Mary Lou Williams
University of Southern California Libraries
Shoah Foundation Institute Visual History Archive
Southern Illinois University Carbondale Library
Katherine M. Dunham Papers
University of Texas Libraries
The Nettie Lee Benson Latin American Collection
Features photograph, "Elisa García López," and "Ordaz Mendoza and María Magiscatzin Genealogy."
Virginia Tech Libraries
International Archive of Women in Architecture
University of Washington Libraries
Japanese American Evacuation and Internment Collections
Wayne State University Libraries
Digital Dress: 200 Years of Urban Style