Admiration of New Deal Works of Art Florishing
(USA Today, November 22, 2010) Judy Keen highlights efforts to discover and restore Works Progress Administration murals in schools and post offices. The article includes an image of
Horses in Children's Literature
, a 1940 frieze by Ethel Spears that inspires kindergarten students in a Chicago school.
Heather Becker, who highlights Chicago's WPA murals in a video that accompanies the online article, is the author of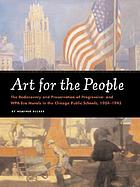 Art for the People: The Rediscovery and Preservation of Progressive- and WPA-era Murals in the Chicago Public Schools, 1904-1943 (Chronicle Books, 2002). Mary Gray's A Guide to Chicago's Murals (University of Chicago Press, 2001) includes full-color illustrations of nearly two hundred Chicago murals, biographies of more than 150 artists, and a glossary of key terms.
Digital Collections of WPA Art
Women Artists of the WPA
(Case Western Reserve University Library) offers biographical profiles and images of works by Jolan Gross-Bettelheim, Dorothy Rutka, and Gladys Carambell.
New Deal Registry
is a
guide to surviving public art that was created under the New Deal programs, 1934-1943. Browse by state, then city.
Works Projects Administration Murals in California
(San Diego State University)
For background information about this database, see Laurel Bliss and Melissa Lamont, "Documenting WPA Murals in California," Art Documentation 29 (Spring 2010): 4-10.
By the People, For the People: Posters from the WPA, 1936-1943
(Library of Congress) includes works by Katherine Milhous, Mildred Waltrip, and other women artists.
Harlem Hospitals WPA Murals
(Columbia University) includes a
biographical profile of Georgette Seabrooke
and a slideshow of
Seabrooke's Recreation in Harlem
.
Oral History Interviews
Oral history interview with Helen Lundeberg, 1980 July 19-Aug. 29 (Archives of American Art) Among other topics, Lundeberg discusses painting murals for the WPA Federal Art Project.
Oral History Interview with Ruth Gikow, 1964
(Archives of American Art) Gikow recalls mural painting at the Bronx Hospital for the Federal Art Project.
Explore Further
New Deal Arts / Culture (U.S. National Archives) This guide covers books, National Archives and Records Administration resources, related collections in the Washington, D.C. area, and related web sites.