Feminism in Cuba, 1898-1958
includes more than 14,000 pages from the personal collection of Dr. K. Lynn Stoner. The documents in this collection, 95% of which are in Spanish, fall into three categories:
Works by feminists (memoirs of feminist congresses, collections of essays by feminists, journals published by feminist organizations, and published speeches and radio broadcasts)
Works by men on the status of women
Literary works by feminist writers that illustrate or discuss the condition of women.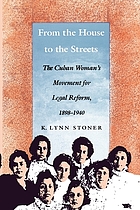 Stoner used many of the sources in the collection for her book,
From the House to the Streets: The Cuban Women's Movement for Legal Reform, 1898-1940
(Duke University Press, 1991).
WorldCat Record
(with Google Preview)